Games
Are You an Adrenaline Junkie? If Yes, You Will Definitely Enjoy Playing The Following Android Bike Racing Games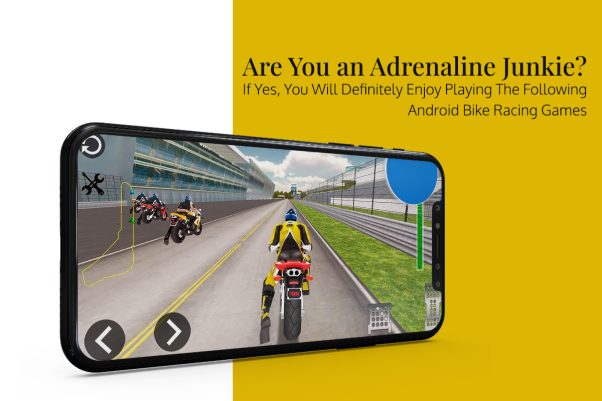 Android users enjoy entertainment at their fingertips. There's no shortage of gaming, music, and other apps offering the best solution to pass the time. If you're a bit of an adrenaline junkie, you will love this list of the best bike racing games for Android. While the experience is virtual, you can feel the wind brushing your hair, and the swooshing sounds as the bikes pass you on the screen. Take a look if you're ready to immerse yourself in the world of speed and formidable challenges. 
MPL's Bike Racing 
MPL's Bike Racing game is a multiplayer racing game with cash and free versions. Players get their daily adrenaline by racing through challenging tracks on their bikes. The primary objective is to reach the finishing line before the opponent. 
The racing track tests the best of gamers as it is exceptionally curvy with sharp edges. Players must have a sense of timing to avoid accelerating before it is required and know when to apply the brakes. Dodging and being mindful of the incoming traffic makes each session even more challenging than expected. 
Players can see a map in the screen's top-left corner and use it to track their opponent's exact position. Once the controls are mastered, there's an opportunity of winning lucrative cash rewards on each session. 
Download the app by visiting the MPL website. First, enter your mobile number to get the download link via SMS. Then, click the link and install the application on your mobile device. After that, tap play and immerse yourself in the fast-paced racing world. 
Asphalt 8 Airborne – Bike Mode 
Gameloft is known for its excellent series of car racing games. Although they took their sweet time to design a bike racing game, they finally added bikes to Asphalt 8 Airborne – Bike Mode. The 8th installment boasts the best graphics and vows to take your breath away. 
Tap on a multiplayer mode to challenge online opponents and perform incredible stunts to fuel the nitro bar. Upgrade the bike parts and utilize other customization options to make your bike stand out from the rest. 
Clan Race
Clan Race is a challenging and exciting bike racing game for bike lovers. It is a comprehensive game and offers three racing modes. The PVP mode allows players to race the best globally, while the Clan mode enables players to play against or with the players from their clan. The Season mode tasks players with various races they must complete to become the top clan race rider. 
Traffic Rider 
Traffic Rider offers players more than seventy story mode missions. There's no petrol limitation; hence, players can dodge city traffic for as long as possible. You can choose from over twenty-five real-life bikes, including Vespas and Hayabusas. Customization options are also available to upgrade your ride. 
Players can perform wheelies, drive fast, and even drive in the wrong direction. The immersive graphics ensure you can pass your time for hours. What's more, the sound of the bikes is recorded from real-life bikes. 
Read Also: Photo Editing Tips for Beginners
Highway Rider 
High Rider is a popular Android bike racing game. Here, you can race with cars and trucks. When you cross them, you score points. In addition, you can tap on the boost bar when you need to go at a very high speed. 
In the game, you can change your outfits and bikes. Also, you'll find different challenges to complete. With every completed challenge, your scores will increase, and you can personalize your ride. 
Death Moto 3
Death Moto 3 offers players impressive improvements to ensure they can enjoy their ride. However, the gameplay's violent fighting experiences and visual effects have rendered this game inappropriate for players under 16. 
Have you played modern-day Road Rash? If so, you must check out Death Moto 3, as they're similar. However, in the latter, the objective is to throw the opponents off the road to score the highest points. Players can choose between ten unique motorcycles, which can be upgraded during the game to improve their performances. You can even select from several rocket launchers, machine guns, and other weapons to strengthen your gameplay and defeat your opponents. 
The game is not for players seeking a relaxing riding experience. Instead, the road is laden with competition and challenges. At every turn, you'll face your enemy, and if you live for the thrill of the competition, these action-packed stages will keep you engaged for several hours. 
Racing Fever: Moto 
Racing Fever: Moto is a popular game in the Google Play Store. It allows players to ride sixteen motorcycles, with the handling and speed varying with each choice. In addition, no matter what bike you select, multiple customization options are available. As for the graphics, the background is fascinating, and the elements are clear. 
In this game, you can check out the Police Escape mode, where you'll be chased by police cars for breaking the speed limit. There are also four different camera angles and four control options. So no matter how many hours you play this game, you won't experience a drop in performance. 
The Bottom Line 
Don't hold yourself back from enjoying the thrill of bike racing games. Download and install these games on your device, enjoy a relaxing ride through the countryside, or beat opponents while overcoming challenging tracks.