Business
HOW TO OPTIMIZE YOUR GOOGLE BUSINESS PROFILE IN PARIS?
Formerly known as Google My business, Google business profile allows many businesses to be visible on the Google search engine. Increasingly improving, Google business profile offers the possibility of creating many services, products, information, photos, but also the creation of posts.
Fond of this service, our see agency in Paris will give you in this article the many possibilities for Parisian companies to use this service to generate traffic and conversions on a website.
WHAT IS GOOGLE BUSINESS PROFILE?
Google Business profile, formerly Google my business is a free service from Google that allows the creation of a complete file with a maximum of elements to direct a user to your website or to your premises. This service, essentially useful for local referencing, has developed in recent years and now offers multiple features allowing you to make yourself more visible, especially on Google Maps.
To go to the administration of your file, go to Google business profile.
To register, it's simple, here are the steps to follow:
1.
Log in by clicking on "log in"
2.
If you already have a google account; enter your email address and password
3.
If you don't have a Google account, you can create one and log in with your username and password.
4.
Once connected, you can add a new establishment by clicking on "add an establishment"
5.
All you have to do is fill in all the required fields.
6.
Once completed, Google will send you a validation code by mail within a week
7.
Once your code has been received, you can validate your file which will make it visible on Google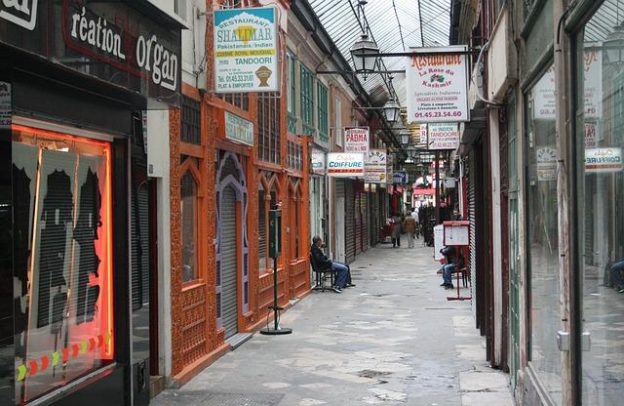 If you want to position your site in Paris, you can also read our dedicated article:
HOW TO POSITION YOURSELF IN SEO for Painters IN PARIS?
WHO CAN CREATE THEIR BUSINESS PROFILE?
Google allows anyone to create their business profile, whether you are:
Nothing prevents you from creating your profile provided you have a physical address with a doorstep. In truth, on paper, everything is possible, Google will not check at home if you meet its conditions. However, be aware that Google users can "report" a company that does not exist, or that does not offer the services advertised on the listing.
Now that we have seen who is eligible for the creation of a Google business profile, let's see together some practical cases in Paris!
OPTIMIZE THE PROFILE OF A BAR RESTAURANT IN PARIS
You are a restaurant located in the heart of Paris in one of the 20 arrondissements, and you want to get more visitors to your restaurant bar? Here are some tips to optimize your listing:
.
1. Optimize your listing title with your main keyword. Example: Your specialty is the vegan burger? Put "Paris vegan burger restaurant"
2. fill in your description with as many keywords as possible that enters the semantic universe: example "meatless" "fresh vegetables", "homemade", "Paris + name of the district" "vegan recipe" … Give envy, and bring the maximum information.
3. Add your opening hours and opening days. Remember to update your file on public holidays.
4. Add a menu and prices
5. If you offer it, inform the delivery providers like Uber eats, Deliveroo or another delivery system in Paris
6. Add services such as home delivery, click on collection, meals on site, reservation, don't forget to mention areas such as delivery in Paris 11th, delivery in the Marais district, etc.
7. Add beautiful photos of the places, of your rooms, of the kitchen, of the team, but also of your dishes. It has to inspire.
Read also: What's the cost of hiring a divorce lawyer in Brookfield?
OPTIMIZE THE PAGE OF A STORE IN PARIS
Stores have a great interest in using Google Business Profile to drive in-store traffic. The important thing to remember is that 90% of people who search for a business do so on their mobile. The other thing to remember is that no one is often doing their instant research when they need it. So, as much to say that if you are not present on Google Maps, you are missing a golden opportunity to obtain new customers in store. This is all the truer in Paris, because the competition is fierce, the city is big, the neighborhoods and arrondissements abound with commerce and other stores vying for the limelight. Among these stores we find in the top list in Paris:
Therefore, you will have to know how to stand out and give as much useful information as possible to your potential visitors. Here is a list of essential elements to note in your store Google business profile:
•
Photos of your store with the decor, your teams, the shelves, the general atmosphere
•
Your promotions! You can do them as a post or as a product sheet.
•
Your services (click on collect, sale on site, etc.)
Speaking of reviews: of course, you can't put reviews on your listing yourself! Here are some tips for collecting reviews from your customers in Paris:
•
Offer a discount for a review
•
Collect the email address of your customers and ask them for a review a few days after your purchase
•
Share the review form link on your social networks
Other things to know about reviews:
2.
Faced with negative reviews, find an appropriate response and a solution to satisfy the customer
The Google business profile is a real lever for working on your e-reputation and generating traffic. In the case of a boutique or a store, the card generally generates a good number of incoming calls, trip requests and store visits. You can see all this information in the statistics section in order to measure and know how your customers find you.
OPTIMIZE THE FILE OF A MEDICAL OFFICE OR LIBERAL PROFESSION
The liberal professions also need to know each other to create a client file and a patient base in Paris. Competition in this area is fierce, because most people looking for a service rely on word of mouth, their geographical area (especially the districts and districts of Paris), but also Google.
WHO ARE THESE LIBERAL PROFESSIONS THAT NEED TO BE VISIBLE ON GOOGLE?
Here is a small list of liberal professions that need Google to be visible in Paris:
•
Dentists and orthodontist
•
Psychologist and psychotherapist
In our see position agency, we work with a good number of these liberal professions in order to position them on requests related to their trades and their services. For this we accompany them on the optimization of their site, but also on their Google my profile.
.