Lifestyle
Some Unique Ways to Cover Glass Doors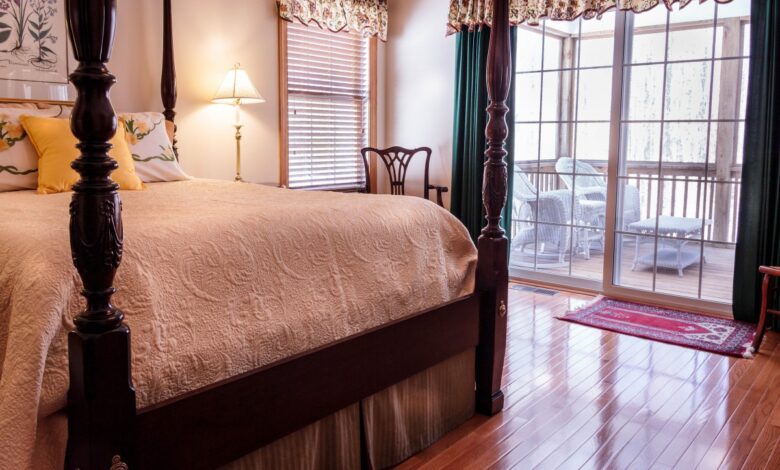 To let in natural sunlight without breaking the bank on framing new window holes in the wall, glass doors are a great option. However, how you best embellish them is an issue that may be difficult to resolve. Take a look at these stylish suggestions for dealing with those glass orifices.
Sheer shades: When folded up, these sheers practically vanish into the dark wood of the window frame. Window treatments for a room with a tropical backdrop should reduce glare without completely blocking the palm trees in the background. Sheers are fantastic for obstructing light and maintaining a view, but they may not be the most excellent choice when privacy is a need.
Exterior shades: When we think of putting window coverings, the inside of the house usually comes to mind. Although salt spray, ice, and humidity may do a number on some materials, this is an out-of-the-box thought for patio residents who want some seclusion from the inside world.
Vertical cellular shades: Vertical cellular shades offer the same purpose and advantages as solar screen panels but with a slightly different style and a bit more texture, making them a modern sliding track choice that is equally good at enhancing energy efficiency and stylish. Protect your furniture and artwork against premature fading with up to 6 layers of insulating cells offered by several firms.
Drapes: Hanging drapes outside the door frame is the go-to solution for many homeowners when adorning French doors. The result is a broad fabric border that may be pulled closed in the middle or, in this example, pulled in one direction to cover the entrance and the neighboring window with two panels. You should stack the drapes on the wall, so they don't obstruct the doorways.
Roman shades: Suppose there is a lot of empty wall space between the door frame top and the ceiling. If you decide on an exterior-mounted type, like this one, make sure to attach all of the shades at the same height for a unified look across the space. Extending the cloth at least 2 inches past the frame may achieve a pleasing aesthetic balance while reducing the amount of light that seeps in through the edges of the window.
Frosted glass: These sliding doors have a sophisticated air thanks to the frosted glass that frames the space. It pairs well with the office's wood tones and sleek design, which would be lost with heavier fabric treatments like drapes. Frosted glass doors aren't just for the inside of modern houses; they may also be seen on some exteriors.
Read Also : How to Install a Boiling Water Tap?
Sliding solar screens: Sliding solar screen panels are the best choice for a modern, minimalistic aesthetic. These are excellent in reducing the sun's glare and protecting against harmful ultraviolet radiation, and they may be used with transparent window film to maximize their efficacy. Sliding doors benefit significantly from this layer since it is both functional and aesthetically pleasing; it looks like and acts like the door itself.